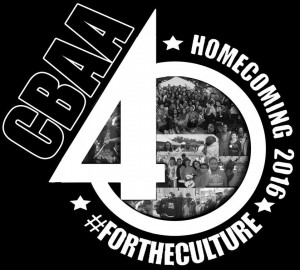 REGISTER HERE.
Students have come and gone and the names of student organizations have changed, but the
Cornell Black Alumni Association
has remained involved in the life of Cornell since 1976.
Join us as we kickoff CBAA's Anniversary at Cornell's Homecoming 2016 the weekend of September 23-25th: CBAA@40. Celebrating Activism Since 1976. Do it #fortheculture. The weekend promises to be a historic one.
As the first association for alumni of color at Cornell, we not only celebrate the achievements of alumni; we also engage with current undergraduate and graduate campus life to nurture the pathway to student success at Cornell.
We want to see Cornellians from all decades (including current students), from every school, college, organization and affinity group come out to celebrate with us!  Here are some weekend highlights:
Friday
- Screening of "Agents of Change" and a multi-generational panel on student activism.
- Welcome Back Block Party with Brown Skin Band.
Saturday
- University recognition of the original site of The Africana Studies and Research Center with a commemoration ceremony.
- The Inkwell tailgate, a staple Homecoming event for the Black community at Cornell. It includes many campus student organizations at the undergraduate and graduate levels.
- CBAA's Anniversary Banquet. President Rawlings will offer remarks along with alumni.
Sunday
- Networking Send Off Brunch
We packaged the weekend to include options for travel, housing, and variety of events that promises to be meaningful, restorative and entertaining. Let's make an impact.  Show up! Bring your classmates and friends. Travel to Ithaca together. Take pictures. Tweet, FB, kik, instagram, snap, periscope, text, call, blog, email, snailmail, groupme, and send a messenger pigeon about CBAA@40 and Homecoming 2016. Let's make sure everyone knows we matter!
If you cannot attend Homecoming weekend, Purchase a souvenir shirt.  Consider sponsoring a student registration. Honor our history. Do it #ForTheCulture!
If you have any questions, please do not hesitate to contact us.
On Behalf of the Executive Board of CBAA,
Michelle Brown-Grant, President 2015-2018
president@cbaa1976.com
REGISTER HERE.