Raquel Smith Wins 2012-13 CBAA Outstanding Student Leadership Award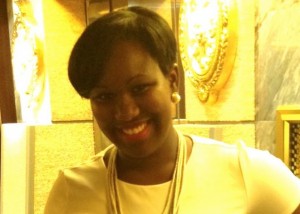 Raquel Smith, a senior in the College of Human Ecology, has been selected as the recipient of the 2012-13 Cornell Black Alumni Association (CBAA) Outstanding Student Leadership Award. This award is given to a senior of African descent for his/her outstanding leadership and efforts to enhance the lives of students and the community-at-large while attending Cornell University.  The award is granted based on the following: (1) academic achievement; (2) leadership on campus or in community organizations;  (3) contribution to improving relationships among Cornell students, faculty, administrative staff and/or the greater Ithaca community; and (4) commitment to uplifting people of African descent including future plans for contributing to CBAA, Cornell University, and the greater community. This award was presented to Raquel at Black Students United's 7th annual "It's a Black Affair," hosted on May 4th, 2013 at the Willard Straight Hall Memorial Room.
For the full press release, please visit here.