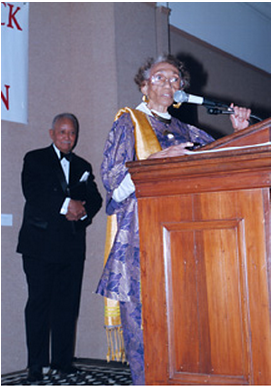 In April 1999, the Cornell Black Alumni Association (CBAA) held a banquet and award ceremony at the National Arts Club in New York City to endow a scholarship in the name of the late historian John Henrik Clarke.  Dr. Clarke taught at the Africana Studies and Research Center in the 1970s. Honored at the banquet were James E. Turner, director of the Africana Studies and Research Center, who is celebrating his 30th year at Cornell, and Janice Turner, associate dean in the College of Arts and Sciences. C. Virginia Fields, former Manhattan Borough president and David N. Dinkins, former mayor of New York City were speakers at the event.
Read full story here.
To donate to this scholarship, click here.