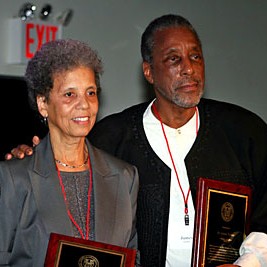 The James and Janice Turner CBAA Scholarship Endowment honors the Turners for their combined nine decades of service to Cornell and will provide scholarships for qualifying African-American students who attend Cornell. James Turner, professor of African-American politics and social policy, was the first director of Cornell's Africana Studies and Research Center; Janice Turner is a retired associate dean in the College of Arts and Sciences.
To make a contribution to this scholarship please go here.
Read the Cornell Chronicle article on the launch of the endowment.
Giving Back: Honoring inspiring mentors and teachers
The Cornell Black Alumni Association celebrates Dr. James and Dean Janice Turner for their years of mentorship, teaching, and counseling, with the establishment of the James and Janice Turner CBAA Scholarship Endowment. This scholarship will help provide financial support for future generations of African American students.